Pyrosate® Kit
Rapid Endotoxin Detection*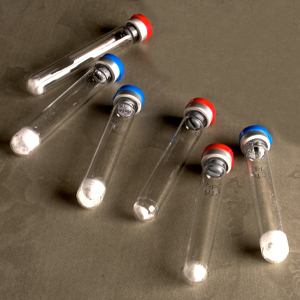 Product Description
The Pyrosate kit is developed as an easy-to-use LAL gel-clot test. The assay does not require special training or laboratory supplies. The step-by-step illustrated instructions allow the user to perform assays within minutes. The Pyrosate kit provides rapid results and is especially convenient for research, testing water and dialysate.
Product Inserts (PDF)
Gel-Clot Products Brochure (PDF)
Product Sensitivity
The Pyrosate kit is available in sensitivities of 0.03 EU/mL, 0.125 EU/mL and 0.25 EU/mL. The test may be as short as 30 minutes, depending on the sensitivity.
Test Performance
The Pyrosate kit is a rapid gel-clot test that contains a 2λ* endotoxin tube (PPC) matched to the sample (SPL) tube for each sensitivity. This feature is unique to the Pyrosate assay and ensures the validity of the test. The endotoxin tube (PPC) assures that the sample does not interfere with the test, ruling out false negatives. Pyrosate is formulated to eliminate false positives due to (1→3)-ß-D-glucans. This endotoxin specific reagent does not require additional blocking buffers.
Product Stability
Pyrosate is stable at room temperature and does not require refrigeration for shipping or storage.
Reconstitution
Pyrosate is reconstituted directly with the sample by adding 0.5 mL to the sample tube (SPL). After approximately 60 seconds of gentle mixing, 0.25 mL is transferred to the endotoxin tube (PPC). The lot-specific incubation time at 37±1°C is given on the Certificate of Compliance.
Product Packaging
The Pyrosate kit is available in a 10 test kit and a 30 test bulk package for each sensitivity. Each kit contains sample test tubes (SPL) and endotoxin test tubes (Positive Product Control-PPC). A Certificate of Compliance, specific to the Pyrosate and CSE lot, can be obtained from ACC or online.
Product Applications
Hemodialysis
Water and Water Systems
Filter Industry
Research
Final Product Release
Product Benefits
Shorter Assay Time
Endotoxin Specific
No Dilutions Required
No Refrigeration Required
Matched Positive Product Control
*λ (lambda) is the lowest concentration of endotoxin to cause a positive test result under standard conditions.
Pyrosate 0.03 EU/mL 10-Test Kit includes
sample test tubes and positive product control test tubes
Pyrosate 0.03 EU/mL 30-Test Bulk Package includes 
sample test tubes and positive product control test tubes
Pyrosate 0.125 EU/mL 10-Test Kit includes
sample test tubes and positive product control test tubes
Pyrosate 0.125 EU/mL 30-Test Bulk Package includes 
sample test tubes and positive product control test tubes
Pyrosate 0.25 EU/mL 10-Test Kit includes
sample test tubes and positive product control test tubes
Pyrosate 0.25 EU/mL 30-Test Bulk Package includes 
sample test tubes and positive product control test tubes
Disposable 50/pack transfer pipettes for Pyrosate kits