Pyrotell®
Gel-clot Formulation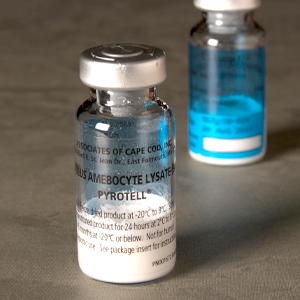 Product Description
Pyrotell® lysate was the first LAL gel-clot reagent licensed by the US FDA. It is easy to use and is available in both economical multi-test vials and convenient Single Test Vials (STV's). Pyrotell lysate is a robust reagent, producing firm, easily read clots and is resistant to interfering substances. The gel-clot test does not require sophisticated capital equipment and software and is the simplest LAL test to implement.
Package Inserts (PDF)
Gel-Clot Products Brochure (PDF)
Product Sensitivity
Pyrotell lysate is available in multiple sensitivities: 0.03 EU/mL; 0.06 EU/mL; 0.125 EU/mL; 0.25 EU/mL.
Sample to Lysate Ratio
For standard use, a 1:1 mixture of Pyrotell lysate to sample is used.
Test Performance
For 2 mL and 5 mL multi-test vials, 100 µL of lysate is mixed with 100 µL of sample in a reaction tube. For single test vials 200 µL of sample is added to the vial, which serves as a reaction tube. Test tubes are incubated at 37°C for 60 minutes ± 2 minutes. A positive test is indicated if the clot remains solid after the inversion of the test tube.
Product Stability
The reconstituted lysate is stable for 24 hours at 2–8°C or for up to 3 months at or below -20°C. May be frozen onceand will retain activity for as long as 3 months if stored at or below -20°C.
Product Reconstitution
Pyrotell multi-test vials may be reconstituted with LAL Reagent Water (LRW), Pyrosol® buffer or Glucashield® buffer. Glucashield (1→3)-ß-D-glucan inhibiting buffer is used to render the assay endotoxin specific.
Product Packaging
Pyrotell lysate is available in single test vial (STV), 2 mL or 5 mL fill sizes. The 2 mL and 5 mL vials are sold individually. STV's are sold in packs of ten vials. Control Standard Endotoxin (CSE) is provided separately with a Certificate of Analysis, specific to the Pyrotell lysate lot with which it will be used.
Multi-Test
5 mL/vial (approx. 50 tests/vial)
Multi-Test
2 mL/vial (approx. 20 tests/vial)
Single Test Vial (STV)
0.2 mL/vial, 5-10 vials/packs