Pyros Kinetix® Flex
Incubating Kinetic Tube Reader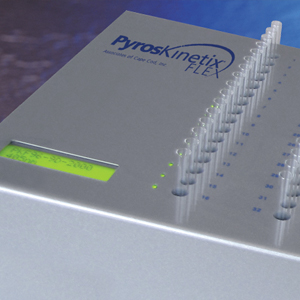 Product Description
The Pyros Kinetix® Flex and Pyros® eXpress 21 CFR Part 11 compliant Software combine to provide a complete system for efficient, accurate endotoxin testing. 

The Pyros Kinetix Flex tube reader is available in three configurations: 32, 64 or 96 eight mm wells. Each well has a detector that identifies changes in the optical density of a sample. In addition, each well is independently timed, allowing the operator to add more samples while a run is in progress.
Kinetic Product Brochure (PDF)
Product Applications
Pyros Kinetix® Flex is designed for use with the Pyros® eXpress software.
Product Benefits
Broad Sensitivity Range: No other system is more sensitive; As high as 0.001 EU/mL with Pyrotell®-T or Pyrochrome® lysate
Increased Efficiency: The ability for end-users to add samples to an existing run in order to efficiently utilize all wells. Software provides quantitative sample results while assay continues to run
Flexible Testing: Variable volumes and ratios can be utilized; ability to maximize product MVD (Maximum Valid Dilution)
Reduced Lysate Usage: As little as 50 µL per test
Independently timed wells: Allows for more samples to be added to a continuous run
Product Features
Precise Temperature Control—incubator temperature is held to 37°C ± 0.5°C
Solid State Design-low maintenance
Two wavelength settings
Low Cost Depyrogenated Disposables
Product System Specifications
Capacity: 32, 64 or 96 reaction test tubes
Power Requirement: 100–240 V, 50/60 Hz 
Light Source: 405 nm and 660 nm LEDs 
Dimensions: 
PKF32 - 9.25" x 10" x 3.125"
PKF64 - 9.25" x 14" x 3.125"
PKF96 - 9.25" x 18" x 3.125" 
Temperature Range: 37°C ± 0.5°C 

Each PK Flex system comes with Pyros eXpress 21 CFR Part 11 Compliant Software (PEQS11), Pyros eXpress Validation Protocol Pkg (PEQS11-VAL-PKF) and corresponding tube racks.
32 well Pyros Kinetix Flex Incubating Kinetic Tube Reader
64 well Pyros Kinetix Flex Incubating Kinetic Tube Reader
96 well Pyros Kinetix Flex Incubating Kinetic Tube Reader